Choosing Conscious Health for a Vibrant Life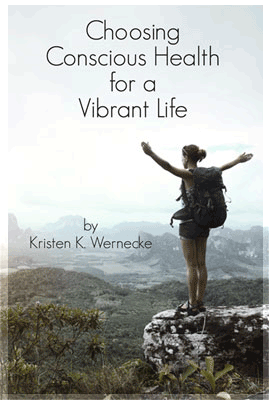 is a practical guide that draws on Kristen Wernecke's twenty two years of experience in integrative healing.
Readers are guided through an inventory of current attitudes toward diet, exercise, and stress
management and introduced to spiritual and energetic paths for health and healing.
This book of stories, science, and tools for change moves each reader to the next level of awareness and broadens the options we all have for achieving conscious health.  Read more about the book >
How to buy the book:
Also available in e-book formats.
Learn how to download your copy
"Keep in mind that any living being grows and learns best with gentleness, kindness and compassion. You deserve your love of self, your acceptance of self, and this is how you will best flourish."    — Kristen K. Wernecke
NEW! 'Meditations' CD, a companion to the book:
This meditation CD is a companion to the book "Choosing Conscious Health for a Vibrant Life," a guide for mind, body and spirit healing using science, stories and tools for change to help broaden the options we have for choosing conscious health.
1. Short Grounding Exercise 4:10
2. Grounding Meditation 13:34
3. Chakra Meditation 14:49
4. Finding Your Sacred Space 17:12
 
Kristen Wernecke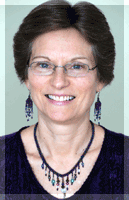 is a non-denominational minister of healing who has been practicing massage therapy and energy healing since 1990.
Her training has included energy healing with Ron Moor at the Center for Wholeness, and with Rosalyn Bruyere and Shelli Stanger-Nelson. She's trained in Chi Gung healing with Master Chun Yi Lin, psychic development with Renee Brown, Emotional Freedom Technique with founder Gary Craig, Cranio-Sacral and Healing Touch.
More about Kristen